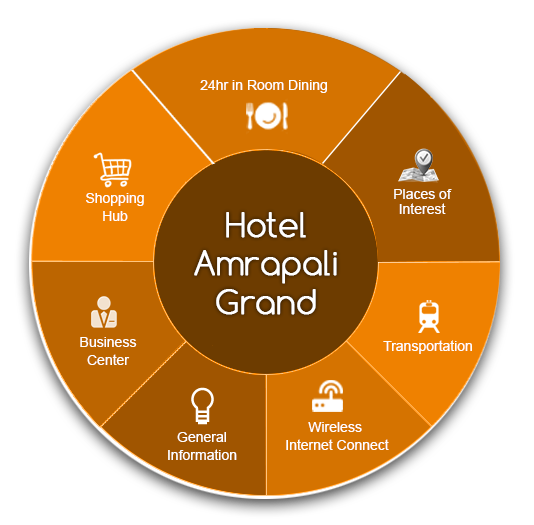 Amrapali Grand
Amrapali Grand is strategically located in the "Heart of City'. Ideally located in Pusa Road, Amrapali has close proximity to Rajendra Place and Karol Bagh Shopping Centre. There is also close connectivity to the metro station and it is not even 15 minutes' drive from Connaught Place. .

Just like the name 'AMRAPALI' which spells Intensity, hotel Amrapali Grand is steeped in centuries of cultural tapestry. There is a sense of 'Profoundness' in this Hotel....Profoundness in terms of Appearance, Location and the Facilities available in this place...Welcome to the World of Amprapali.... Welcome to the Abode of Convenience and Luxury........!!

With Amrapali Grand you can savour an exquisite assimilation of tasting history, well mingled with the modern amenities. Our exquisite art of hospitality can inspire your senses and enable you to experience the mundane with a GREAT sense of pleasure and élan! One can experience the new symbol of luxury mastered over decades. That's Amrapali Grand for you......!
About the Hotel:
Amrapali is Centrally Located in New Delhi's Pusa Road Area. Built in 1982, the hotel was inaugurated by Giani Zail Singh Ji. It is open from four sides and has sound proof, centrally air conditioned premises. Location is such that it forms the hub for both business and leisure destinations
(A). The Location has close proximity to the following:

(1) Hospitals: (Sir Ganga Ram Hospital, BL Kapoor Hospital, Pusa Institute)
(2) Shopping Arcades: (Karol Bagh, Connaught Place)
(3) Connectivity to Transport (Metro Station is walking distance away, IGI Airport, New Delhi railway Station are just 10-20 minutes away)

(B). Facilities: There are all kinds of modern facilities available in the hotel that matches it up to the standards of a 4 star hotel. It has 24 hours coffee shops, room service, meeting space and banquet hall. The hotel is also facilitated to provide for a venue for corporate meetings or events, and can accommodate almost 100 people and almost 200 people for social arrangements. Thus we provide a perfect venue for small gatherings and meetings and also ultimate venues for large gatherings. Our conference spaces are all geared with technological advantages, with excellent audio-visual and lighting impacts. Thus high profile meetings and video conferencing can be easily held here. The premises are apt for roof top parties, evening cocktails, Doctor's meet or meetings for the sales teams going up to 200 people. We also have fleet of cab services to pick and drop the guests to and from the venue.
PLACES OF INTEREST
Connaught Place : Connaught Place is one of the largest financial, commercial and business centres in New Delhi, India. Popularly known as CP; it houses the headquarters of several noted Indian firms, and has associations down the lanes of history too. There is a sense of élan, and grandeur to CP that talks about history of Delhi. Being the former location of the headquarters of the British, the area's environs occupy a place of pride in the city and are counted among the top heritage structures of New Delhi. It was developed as a showpiece of Lutyens' Delhi with a prominent Central Business District. Amprapali Hotel is not even 15 minutes' drive from this place.

Red Fort : The Red Fort was the residence of the Mughal emperors for nearly 200 years, until 1857. In addition to accommodating the emperors and their households, it was the ceremonial and political centre of Mughal government and the setting for events critically impacting the region. It is located in the centre of Delhi and houses a number of museums.

India Gate : India Gate, originally called the All India War Memorial, is a war memorial located in Rajpath, on the eastern edge of the 'ceremonial axis' of New Delhi, formerly called Kingsway. The names of some 70,000 Indian soldiers; who died in Wars from 1914–19, are inscribed on this memorial arch. Additionally the memorial also bears the names of 12,516 Indian soldiers who died while serving India in Third Afghan War. This war memorial (designed by Sir Edwin Lutyens); with its architectural élan has been compared with the Gateway of India in Bombay, and the Napoleonic Arc de Triomphe in Paris. India Gate has a close proximity to Amrapali Grand.

Qutub Minar : Qutub Minar is the 2nd tallest building (73 metres) in India after Fateh Burj in Chappar Chiri at Mohali; which stands tall at 100 meters. Qutub Minar; originally an early Islamic Monument inscribed with Arabic inscriptions; is a UNESCO World Heritage Site. Located in Delhi, it is made of red sandstone and marble. The stairs of the tower has 379 steps, is 72.5 metres (237.8 ft) high, and has a base diameter of 14.3 metres, which narrows to 2.7 metres at the top. Construction was started in 1192 by Qutb-ud-din Aibak and was carried on by his successor, Iltutmish. In 1368, Firoz Shah Tughlaq constructed the fifth and the last storey. It is surrounded by several other ancient and medieval structures and ruins, collectively known as the Qutub complex. Qutub Minar is almost 40 minutes' drive from this place.

Taj Mahal, Agra and the Pink City are at a few Hours' driving distance from this place.


SHOPPING Centres in Close proximity to Amrapali:
Connaught Place & Janpath : Janpath; translated as People's Path; is one of the main roads in New Delhi. It starts out as Radial Road 1 in Connaught Place, adjacent to Palika Bazaar, and runs North-South perpendicular to, and past Rajpath (the "Rulers' path"). Janpath Market is one of the most famous markets for tourists (both Indian and foreign) in New Delhi. The market essentially is a long line of boutique stores selling products which are hard to find in the malls and multi-chain stores of the city. So for budget travellers; this place is a heaven, as it houses clothes, handicrafts and garments, curios and numerous Indian-style fast-food places. So if one wants to get the real feel of India, Janpath is the place to be!

Dilli Haat : Dilli Haat is located in the commercial centres of South Delhi, opposite INA market. The 6 acres of land on which this complex is built; was salvaged as part of a reclamation project and transformed into an exquisite plaza. Extensive foundation work, small thatched roof cottages and kiosks give this plaza a rustic appeal. Craftsmen from various states come here to showcase their skills and sell their products. A vast plethora of handicrafts, rosewood and sandalwood carvings, embellished camel hide footwear, sophisticated fabric, drapery, gems, beads, brassware, metal crafts, and silk and wool fabrics are all showcased here. Dilli Hatt is also a place that hosts number of handicrafts and handlooms promotion shows.

Karol Bagh : Karol Bagh is a residential cum shopping complex that 'has it all!' So is one is looking for imported stuff or local stuff, to designer wear or bridal wear...Karol Bagh provides 'One place shopping' for all your shopping needs. Streets like Ghaffar Market and Ajmal Khan Road are highly popular for their merchandise, and it has very close proximity to Amrapali Grand.


BUSINESS
Rajendra Place: Rajendra Place is a multi storeyed, multi-building commercial complex, located in main Pusa Road, New Delhi, India. The complex hosts several restaurants and offices, and is adjacent to the Jaypee Siddharth Hotel. It is connected by the DMRC Transit System via a nearby metro station. The multi-speciality hospital BLKapoor is just opposite the complex.

Connaught Place : Connaught Place is one of the largest financial and commercial business centres of New Delhi. It forms the hub for many things and has great historical associations too. It's like the popular downtown area of the city.


Embassy Premises
Chanakya Puri is an affluent neighbourhood and diplomatic enclave established in the 1950s in New Delhi, and located 14 km from Indira Gandhi International Airport. Chanakyapuri translates to the City of Chanakya, and is named for the third century BC Maurya advisor and prime minister. It plays host to the majority of foreign embassies in India, and is home to many staff members of these consulates. Chanakyapuri was also developed as official residences for both politicians and civil servants to the Union Government. As such, it has numerous parks and open spaces, and suffers few utility disruptions. It is located near the Prime Minister's residence.


Hotel Policies:
Standard check-in/check-out time is 12 Noon
Guests must carry their Photo-IDs, Address Proof (Driving License, Passport, and Voter ID Card). PAN CARDS AND VISITING CARDS WOULD NOT BE ACCEPTED.
Hotel packages/Hotel prices/Special deals are subject to change without prior notice.
Early Check-in is subject to room availability. For guaranteed early check-in on 01 night; 'Re-Block' room charge is required.
Services Not Utilized are 'Non-Refundable'
In case of any changes/cancellations, please inform about the same immediately, otherwise retention charges would be levied.
Advance payment required for bookings and reservations.
One night's cancellation charges would be charged for no-show or cancellations made within 7 working days prior to arrival.
GENERAL INFORMATION
Valid Visa is required
Visitors must carry ID at all times
Languages: Hindi, English
Currency: Indian Rupee (INR)
Climate: Summer, max 45C – min 30C;
Winter , max 20C – min 2C
Electricity : 220V


TRANSPORTATION
Delhi International Airport – 12 kms / 20 mins
Metro Station – 200 mtrs (Rajendra Place) – direct connect to Airport Line T3.
New Delhi Railway Station – 6 kms / 13 mins